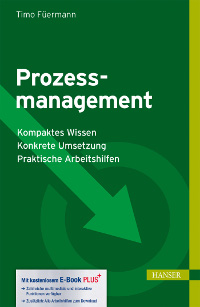 Füermann betrachtet Prozessmanagement als langfristiges Organisationsprinzip, das nicht in Form eines einzelnen Projektes eingeführt werden kann, sondern ein umfangreiches Programm erfordert. Er teilt dieses Programm in vier Phasen auf, nach denen auch das Buch gegliedert ist. Zunächst aber werden die Grundlagen der Prozessorganisation behandelt. Von den verschiedenen möglichen Organisationsformen wird die asymmetrische Matrixorganisation hervorgehoben, die das Spannungsfeld zwischen Prozess und Funktion durch eine Matrix löst, aber den Prozessen den Vorrang gibt. Nicht direkt an den kundenorientierten Prozessen beteiligte Organisationseinheiten werden als interne Dienstleister aufgestellt, oder sie entsenden Fachleute in die Kernprozesse.
In der Phase "Infrastruktur" werden die verschiedenen Rollen im Prozessmanagement besetzt und das Programm geplant. Außerdem geht es darum, die Prozesse zu identifizieren und in einer Prozesslandkarte darzustellen. Es folgt die Phase "Beschreibung", in der die Prozessdetails festgelegt und in Form von Ablaufdiagrammen dokumentiert und verbindlich festgelegt werden. In der Phase "Lenken" werden Indikatoren zur Messung von Prozessen aufgestellt, Schnittstellenvereinbarungen getroffen, Prozessaudits durchgeführt und Korrekturmaßnahmen eingeleitet. Die Methode "Hoshin Kanri" bietet einen Rahmen zur Ziel- und Maßnahmenplanung. Schließlich folgt die Phase "Verbessern". Das Prinzip der ständigen Verbesserung sorgt für eine kontinuierliche Weiterentwicklung der Prozesse. Als Ansätze für größere Veränderungen werden Six Sigma und Process Re-Engineering beschrieben.
Für jede Phase wird eine Reihe von Arbeitsmitteln zur Verfügung gestellt, die auch von der Website des Buchs heruntergeladen werden können, meist in Form von Excel-Dateien. Darunter finden sind beispielsweise Vorlagen für Programmpläne, für SIPOC-Darstellungen (Supplier – Input – Process – Output – Customer) oder für übersichtliche Prozessberichte im A3-Format. Die Anwendung jedes dieser Hilfsmittel wird im Buch ausführlich erläutert.
Der Fokus des Buchs liegt rein auf organisatorischen Fragestellungen, daher wurden sämtliche IT-Aspekte außen vor gelassen. Ob dies angesichts der immer stärkeren IT-Durchdringung aller Prozesse heute noch sinnvoll ist, lässt sich zumindest diskutieren. Auch einige der vorgestellten Arbeitsmittel im Prozessmanagement sollte man in ernsthaften Prozessmanagement-Initiativen nicht unbedingt ohne entsprechende Software-Unterstützung durchführen. Beispielsweise wird eine rein Excel-basierte Prozessmodellierung recht schnell nicht mehr handhabbar sein. Dass für die grafische Darstellung Programmablaufpläne anstelle verbreiteter Notationen wie BPMN verwendet werden, entspricht nicht ganz dem State of the Art.
Zwar enthält das Buch keine kompletten Neuheiten, doch werden die einzelnen Themen gut verständlich und nachvollziehbar dargestellt. Viele der bereitgestellten Arbeitshilfen können sehr nützlich für die praktische Arbeit von Prozessberatern und -managern sein.
---
Timo Füermann:
Prozessmanagement – Kompaktes Wissen, Konkrete Umsetzung, Praktische Arbeitshilfen.
Hanser 2014
Das Buch bei amazon.